Lower Hutt
Club Location
Wainuiomata High School
New students are encouraged to come along and try out a few sessions with no obligation, to see if the club meets their expectations.
Club Contact Details
Name: Brian McGhie
Phone: 027 737 1566
Email Address: [email protected]
Club Training Times
Tuesdays: 6:30 – 8:00 pm
Club Instructors


Sensei Brian McGhie Rokudan (7th Dan)
Began training in 1974 in Upper Hutt in Kokushinkai. In the late 70's affiliated to Sensei Higaonna and started training in Okinawan Goju. Travelled to train with Sensei Higaonna on a number of occasions, with one visit to the United States being for a two-month duration.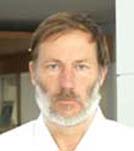 Terry Webb Yondan (4th Dan)


Wayne Foster Yondan (4th Dan)


Jason Gray Nidan (2nd Dan)
Grant Avery Shodan (1st Dan)