Otago University
Club Location
Clinic Gymnasium
Cumberland St North
School of Physical Education
Otago University.
Clinic Gymnasium (otherwise known as the Old Gym) is on Cumberland Street North, nestled between the main doors of the Phys Ed building and the Otago Museum. New students are most welcome, and although we are a University club, we do accept non-students. To view the Otago Campus map click here (the dojo is in building F3.24).
Club Training Times
Mondays: 6:00 – 7:30pm
Thursdays: 6:00 – 7:30pm
Club History
Started in the early 1970s, the Otago University Karate Club was the first martial arts club on the Otago campus; it has been training Otago students for over 35 years. Previous Instructors have included Sensei Chris McMahon, Phil Jackson, and Nat Craig.
Club Instructors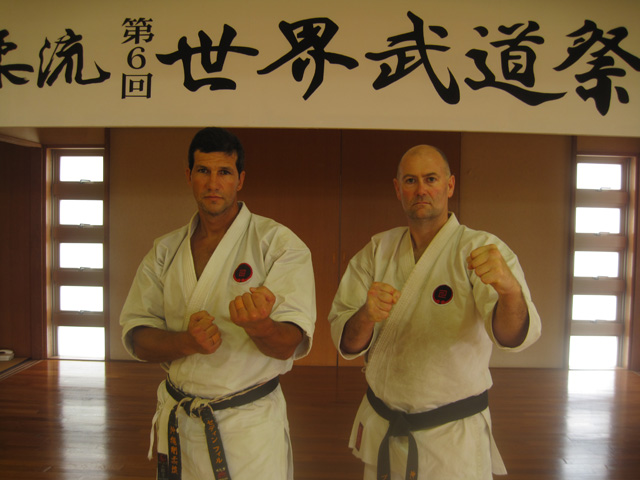 Phil Seddon (left) and Blair Kennedy, post-grading, at the 2012 World Budosai, Naha, Okinawa, Japan
Sensei Blair Kennedy, Rokudan (6th Dan)
Blair began his karate training in 1983 at the Otago University Club, with his first major teacher being Sensei Chris McMahon. From 1988-1989 Blair ran the Alexandra Dojo as a Brown belt, returning to Dunedin in 1990 to take up a teaching position at King's High School, and to help Sensei Chris with the University club. He did his shodan test in 1990, his nidan in 1992, his sandan in 1997, his yondan under Higaonna Sensei in 2007, and his godan at the World Budosai in Naha Okinawa in 2012 under a grading panel comprising senseis Higaonna, Bakkies Laubscher and Terauchi. Blair has been chief instructor at the Otago University Karate Club since 1993.
Sensei Philip Seddon, Rokudan (6th Dan)
Phil began training in 1982 in Dunedin's Princes St dojo (then affiliated with the Rembuden Institute under Sensei John Jarvis), and joined the Otago University Club from 1983. He was awarded his shodan by Sensei Dennis May in 1988. In 1989-1991 Phil was based in Cape Town, South Africa, during which time he trained under Sensei Bakkies Laubscher and graded to nidan. From 1991-2000 Phil worked in the Middle East, maintaining and developing his Goju Ryu by seeking out and training with a variety of styles including Shotokan, Shukokai, and Ashihara Karate. Phil returned to New Zealand in 2001 to take up a position at Otago University running the Wildlife Management programme, and to resume formal training with the varsity karate club. He graded to sandan in 2003, to yondan under Higaonna Sensei in 2007, and to godan at the World Budosai in Naha Okinawa in 2012 under a grading panel comprising Higaonna Sensei, Bakkies Sensei and Terauchi Sensei – the grading itself was run by the current IOGKF Chief Instructor, Nakamura Sensei.
Additional Information
OUKC Yudansha (Black belts)

The following students successfully completed dan gradings while members of the Otago University Karate Club (since 2008):
Steve Wills (sandan)
Ken Lister (sandan)
Mike Gill (sandan)
Samantha Paul (nidan)
Allan van Dyke (nidan)
Rebecca Farmer (nidan)
Sophie-Anne Chin (nidan)
Adam Illingworth (shodan)
Nick Biggin (shodan)
Justin van-de-Water (shodan)
Nathan Mahon (shodan)