Invercargill
Club Location
284 Layard Street
Corner of Layard and Ward Streets
Invercargill
Club Contact Details
Name: Steve Hibbs
Email Address: [email protected]
Phone: 021 157-4062
Postal Address: 93 Blyth Street, RD 11, Invercargill 9877
Club Training Times
Juniors
Tuesdays and Thursdays: 5:30pm – 6:30pm
Seniors
Tuesdays and Thursdays: 6:30pm – 8:00pm
Club History
The club started under chief instructor Doug Holloway in 1966 under kyokushinkai karate. Training was held in the YMCA gym and school gymnasiums.
The club changed to Goju-Ryu in 1978 when John Jarvis returned from Japan to promote Okinawan Goju-Ryu in New Zealand.
Club Instructors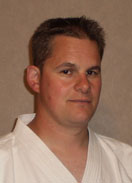 Sensei Steve Hibbs Sandan (3rd Dan)
Steve has been training under the Gojo-Ryu style since 1996 where he began his training under Sensei Denis May in Dunedin. He moved to Invercargill in 2005. He has attended two international gasshuku in Japan. Steve graded to Sandan under Sensei Brian McGhie in 2009.