Martinborough
Club Location
Martinborough Primary School Hall
Dublin Street
Martinborough
Club Contact Details
Name: Paul Cantwell
Phone: 06 3089839 or 027 3769804
Email Address: [email protected]
Postal Address: 104 Fox St, Featherston 5710
Club Training Times
Tuesdays:
Juniors: 5:15-6:15pm
Mixed ages: 6-8pm
Club Instructors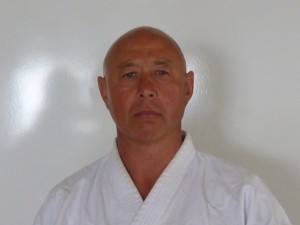 Sensei Paul Cantwell Godan (5th Dan)
As a young boy I starting training in Kei Shin Kan, Lower Hutt and then trained under Vernon Winitana with the Whanake Rangataua Karate Club until I was about 15. It was many years before I took up martial arts again.
I began my IOGKF training with Sensei John Whitby at the Greytown Dojo in April 2001 and opened the Featherston Dojo after achieving Shodan in 2003 under Sensei Terry Hill. Achieved Nidan in 2006 also under Sensei Terry Hill, Sandan in 2008 under Sensei Bakkies Laubscher and Yondan in 2013 under Nakamura Sensei.
I have obtained Shodan in Ryūkyū Kobudō Hozon Shinkō Kai under the guidance of Derek English.