Papamoa
Club Location
Golden Sands School
Golden Sands Drive
Papamoa Beach
Club Contact Details
Name: Phil Dovaston
Phone: 021 2343021
Email Address: [email protected]
Postal Address: 314 Bell Road, RD7, Te Puke
Club Training Times
Mondays: 6.30 – 8.30 pm
Thursdays: 6.30 – 8.30 pm
Saturdays: 10:00 – 11:00 am (Black and Brown Belts)
Club History
Established at Papamoa in 1994. Prior to this the club was at Te Puke. The Te Puke dojo was first started by Sensei's Grant and Roger Deed. Sensei Ian Gunton took over in 1989 and was jointly run until 2001 when Sensei Phil took over.
Club Instructors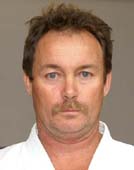 Sensei Phil Dovaston, Godan (5th Dan)
Phil started training in March 1991. He sat his Shodan under Denis May in June 1994, Nidan under the NZ Kambukai in June 1997, Sandan under the Kambukai in June 2002, his Yondan under Higaonna Sensei in 2007, and Godan under Nakamura Sensei in 2013. Married to Wendy (who holds Shodan) with 4 grown boys. The highlight of his martial arts career was travelling to Okinawa, Japan in 1998 and training at the International budosai with Sensei Higaonna and other martial artists from around the world. He has also travelled to and trained in Australia and England.