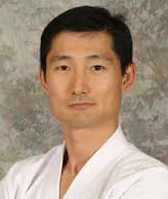 Sensei Nakamura, IOGKF World Chief Instructor, has been training in Goju-Ryu Karate for over 30 years. He was a student in Okinawa, Japan – the birthplace of Karate. He received instruction from the Karate master who is the direct student of the founder of Goju-Ryu Karate – Master Chojun Miyagi. Sensei Nakamura has won 3 World Championships – twice in kumite (sparring), and once in kata (forms).
He was a head-assistant instructor under Master Morio Higaonna (10th degree black belt, former Chief Instructor of IOGKF) at the world headquarters in California, USA (1991 – 94) as well as Japanese headquarters in Tokyo (1995 – 1997). He moved to Canada 1997 as a technical advisor for IOGKF Canada. He was soon appointed as a Chief Instructor for IOGKF Canada & North America as well as the Administrative Director for IOGKF International.
In 2008 at the IOGKF World Budosai, he was promoted to IOGKF Vice-Chief Instructor by his own instructor, Master Morio Higaonna.  In 2012 he was appointed IOGKF World Chief Instructor.
Sensei Nakamura travels internationally regularly to teach Karate seminars. He holds a law degree and teacher's license for philosophy, politics, and economics from Kagawa University, Japan. He is currently a 7th degree black belt in Goju-Ryu Karate and a 2nd degree black belt in Judo.