My 3 and a half month trip began with a month in Tokyo, training at Kiyose Dojo with Terauchi Sensei. Like many people, I'd heard the stories about Sensei, but hadn't managed to make it to training at either of the camps he has held in NZ, so I was pretty apprehensive.
At Kiyose dojo, training is held 4 days a week, twice a day, except Sundays. I found this really handy, as it gave me a few days each week to explore Tokyo and other parts of Japan, like Nikko, as well as a bullet train ride down to Kyoto. It just meant the days that you did train could become a bit difficult!
Sensei was very welcoming, and we managed many a conversation about our mutual friend Sensei Tony Clarke with his grunts and semi-English and plenty of chuckles. Training lasted between an hour and a half to 2 hours at a time and you never knew what you were in for; whether it was a sweat session beginning with a load of kihon drills (with the count kept by Sensei T while he sandpapered his knuckles) followed by Sanchin and sparring to test your cardio, or a technical session dedicated to 1 kata, it always varied. The only things that really stayed the same from one session to the next were the warm ups and Sanchin.
For most of the Tuesday and Wednesday morning trainings I was there, I was Sensei's only student. When it first happened I thought 'what have I gotten myself into', however Sensei takes the class exactly the same as if he had any number of students in front of him, except you're the only one to pick holes in! After the first such session I came to start hoping for more of them, as they were incredibly hard, but incredibly rewarding.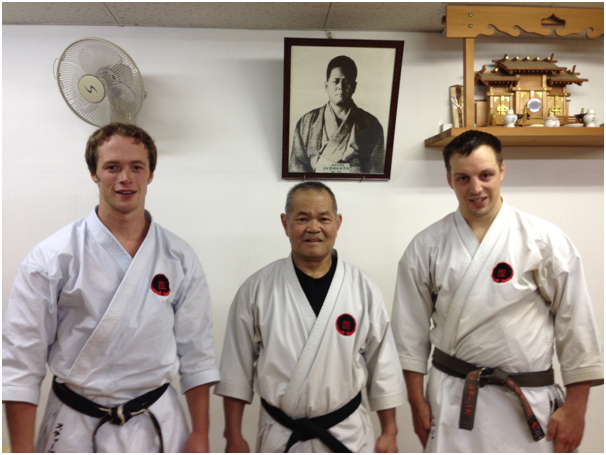 After my month in Tokyo, I was excited to head for Okinawa, the home of Karate and of "The Boss", Higaonna Sensei. I was lucky that Sensei was at training the very first night that I trained, although it didn't feel like luck half way through the session. That session began with the staple Junbi Undo, followed by some Hojo Undo, at which point Sensei arrived. He looked around, saw myself and one other new face there, and put us straight into Ude Tanren, with me lucky enough to have Kuramoto Sensei as my partner, a man seemingly made of stone and iron. As the bruises still hadn't faded from my time with Mr T, this was a long and painful session, one that was followed by Sanchin, with gi jackets off and shime, still with Kuramoto Sensei, and power training for Sanchin. Needless to say, the walk back to my guesthouse was a long one after that.
Training in Okinawa was definitely unique, and something that I miss. Higaonna Sensei is simply an awe-inspiring man, and the intensity of training under his sharp eye all of the time, sometimes with only 2 of you (the other person being Kuramoto Sensei) practising your kata and kihon in front of him, is something that can't be replicated. I was privileged enough during my time there to have several 1 on 1 kata sessions with him, an experience that made the entire 3 months worth it by themselves. He really is something else, someone who, as well as being fearsome and educational in the dojo, is quick with a warm smile and some genuine conversation outside of it, as well as the endless supply of stories he has to share.
Kuramoto Sensei is well worth mentioning, as he is so humble and such a kind person, just like Sensei. Some highlights were when he and one other dojo member took me up to the aquarium, when he took me out for dinner after training at a local noodle bar, and when we went for a few beers just before I left with a few of the guys. His technical knowledge is also immense, complimented by Uehara Sensei, and he won't let you get away with any slips; there's always something you're doing wrong, which he kindly points out to you. He also has a way with words; the best encouragement I think I got was about halfway through my visit, when, after practising Seyunchin for the 100th time, he looked at me and simply said, "getting better".
After a farewell dinner with Sensei's Higaonna, Uehara and Kuramoto, as well as a few dojo members, I was sad to be leaving, although 6 summer weeks in England lay ahead.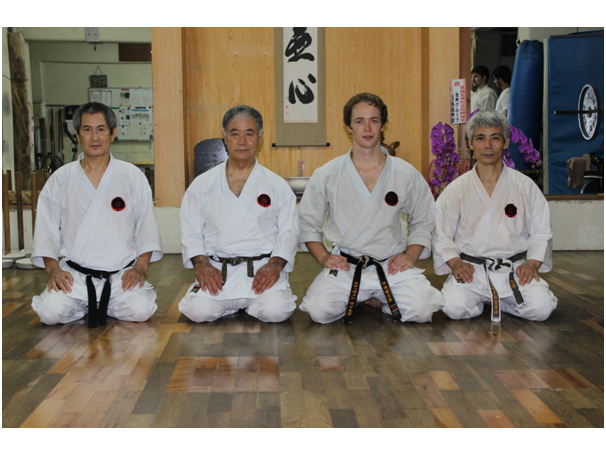 I have a lot of family in England, and so my time was split between Karate, family and sightseeing. Although there are several dojos in London, it's a city that can be expensive and take a long time to get around, and so I ended up sticking to 2 dojos to train at twice a week each while I was there; Sensei Linda Marchant's Tooting dojo in Wimbledon and of course Sensei Nigel Thomas' Hanwell dojo. Both were awesome to train with, and both of course have a great wealth of knowledge of their own from their many years of training. Having a kiwi to talk to in Nigel was great, and it gave me first hint of looking for to returning home, but I had a lot to do yet. Sensei Nigel was a great host, who ensured I was never kept too far from an English ale, and the people who train with him help make his club what it is.
I hadn't met Sensei Linda before, but I had heard of her and thought she looked impressive, I wasn't wrong. I thought I'd grown fit in Japan but her warm-ups had me struggling very quickly, and she had a lot of knowledge to share. If anyone else ever finds themselves in London and needing training in between sessions with Sensei Nigel, I can highly recommend you get along to her dojo.
I also managed to make it down to Bournemouth for one of the EGKA's national camps, taken of course by Sensei Ernie Molyneux. Meeting the wider EGKA family was another great experience and I learned a lot from the many experienced instructors that are there. Unfortunately I ran out of time to get back down there to attend a training session at Sensei Ernie's dojo, so I'll have to make it a priority next time.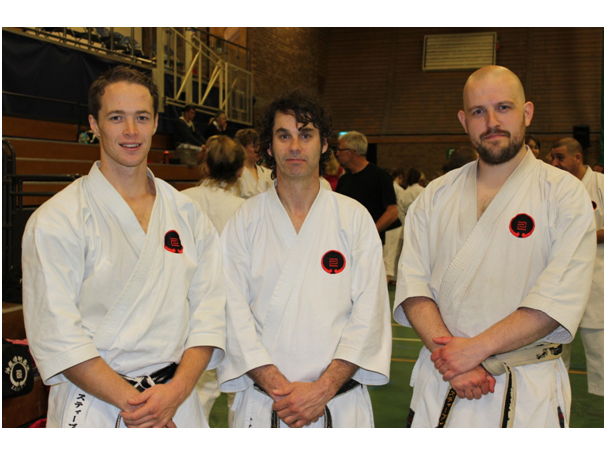 I was incredibly lucky to go on this journey, and I met a huge number of new friends within the global IOGKF community. I'd like to give special thanks to the Otago University dojo, where I primarily train, and the Ranfurly dojo for their contributions which, along with the IOGKFNZ travel fund committee, made my trip possible.
Steve Wills
Otago University Dojo