Wellington
Club Location
Southern Cross (Regal Rovers) Scout Hall
Cnr Stoke/Hanson Street
Newtown
Wellington
Other Wellington Region Clubs:
Club Contact Details
Name: Rajesh Ravji
Phone: 021 497 815 or (04)383 6461
Email Address: [email protected]
Wellington Karate has a number of accredited Black Belt instructors. All instructors are affiliated with the International Okinawan Goju Ryu Karate-do Federation (IOGKF).
Club Training Times
| | | |
| --- | --- | --- |
|   | *Mondays | Wednesdays |
| Children and Beginners | 6.00 – 6.40 pm | 6.00 – 6.40 pm |
| Intermediate Grades | 6.30 – 7.30 pm | 6.30 – 7.30 pm |
| Senior Grades | 6.30 – 8.30 pm | 6.30 – 8.30 pm |
*PLEASE NOTE: the last Monday of each month Adults will have hojo undo (conditioning) training at 61 Waitoa Road, Hataitai. There will be NO Children's classes on these days
Wellington Karate Club
The club welcomes new students to come and try our classes to determine if you are interested in learning Karate with us.
Our classes are suited to those who are looking to learn new skills, develop themselves physically and mentally, and be challenged in a controlled and safe environment so they are better equipped to handle everyday life.
The club runs as a not for profit organization, hence it has low fees and does not have a commercial focus but instead trains it's students under the values of traditional karate focusing on building good character, strength, fitness and agility while gaining an understanding of the techniques so students can better apply these in the case of needing to defend themselves.
Some students who play other sports use our karate training as a method of cross training to further develop themselves or to help them peak for their dominant sport, while others use our training as a method of regular fitness and conditioning similar to going to the gym or for a run.
Training under the IOGKF has enabled the students of this club to be exposed to some of the top international instructors from around the world. The Wellington instructors have regular tuition under top international instructors, giving them the benefit of knowledge and experience to apply to their own practice and pass onto their students. As a result of having a high caliber of instructors the organization has produced a number of successful New Zealand Karate representatives who have competed around the world.
Club Instructors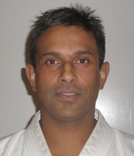 Sensei Rajesh Ravji, Nanadan (7th Dan)
Rajesh began training in 1979 at Sensei John Jarvis's Newtown dojo, and four years later graded to Junior Shodan (1st Dan). In 1986 he began competing in a number of karate tournaments, and went on to represent New Zealand several times between the late 1980s and 2007. Highlights of his tournament career representing New Zealand include:
– Coming 5th at the 1989 Goju Ryu World Championships in USA
– Bronze at the 1990 Oceania Karate Championship in New Caledonia
– Coming 4th at the 1991 APUKO games in New Zealand
– Coming 12th at the 1991 Goju Ryu World Championships in Okinawa
– Winning gold and silver at the 1996 Goju Ryu Asia Pacific Championships in Australia
– Winning gold and silver at the 1997 Goju Ryu Asia Pacific Championships in Fiji
– Coming 2nd at the 1999 Goju Ryu Asia Pacific Championships in New Zealand
– Coming 2nd at the 2007 Goju Ryu World Championship in India
Rajesh graded to 2nd Dan in 1988, 3rd Dan in 1991, 4th Dan in 1995 and 5th Dan in 2005.  In 2015 he attended the Chief Instructors training camp in Okinawa where he was awarded 6th Dan under Higaonna Sensei the IOGKF world Chief Instructor
Rajesh initially started teaching children's classes at the age of 12 and later adults classes under John Jarvis. Since then Rajesh has trained and taught at a number of dojo's and training camps throughout New Zealand.
Rajesh become Head Instructor of the Wellington dojo in 1999. In 2006 he was appointed to the IOGKF New Zealand  Executive Technical and Management Committee which oversees the quality of Goju Ryu teaching, management and leadership throughout New Zealand. Rajesh identifies training with a number of the world's top instructors as a key highlight of his ongoing study of Goju Ryu karate-do.
James Burkitt (2nd Dan)
Daniel Dixon (2nd Dan)
Gerry O'Neill (2nd Dan)
Darren D'Cruz (2nd Dan)
Peter Merrigan (1st Dan)
Sharlee Athfield (1st Dan)
Matthew Sheppard (1st Dan)
Junior Black Belts:
Shaleena Ravji (1st Dan)
Shaam Ravji (1st Dan)
Chhaya Govind (1st Dan)
Additional Information